Homoclinic and heteroclinic solutions for a class of second-order non-autonomous ordinary differential equations: multiplicity results for stepwise potentials
Boundary Value Problems
2013
2013:167
Received: 30 November 2012
Accepted: 11 June 2013
Published: 15 July 2013
Abstract
We prove some multiplicity results for a class of one-dimensional nonlinear Schrödinger-type equations of the form
where and the weight is a positive stepwise function. Instead of the cubic term, more general nonlinearities can be considered as well.
MSC: 34C37, 34B15.
Keywords
homoclinic solutionsheteroclinic solutionsmultiplicitynonlinear Schrödinger equationstepwise potentialtopological methods
Dedication
Dedicated to Professor Jean Mawhin
1 Introduction
This paper deals with the study of homoclinic and heteroclinic solutions for a class of nonlinear second-order differential equations of the form
where is a fixed (positive) coefficient and is a bounded weight function. For the nonlinear term, which we split as
we suppose that
(∗) is a locally Lipschitz function which is even, strictly increasing on such that and .
Examples of functions f which are suitable for our considerations are, for instance, as in [1], or () as in [2]. In both these cases, the function f is even. In Section 3 we briefly describe how this restriction could be avoided.
Equations of the form (1.1) naturally arise in the search of particular solutions for some classes of nonlinear Schrödinger equations (NLSE) with inhomogeneous nonlinearities. Typical examples are related to the NLSE
where
ħ
is the Planck constant,
m
is the particle's mass,
i
is the imaginary unit, Δ is the Laplace operator and . In literature, solutions of the form
where and is a real-valued function, are called
stationary waves
. Their search leads to the equation
(see [3]). Usually, the Planck constant and the mass are omitted in (1.3) after rescaling.
In many significant models of NLSE, one-dimensional waves are considered. They are studied, for example, in nonlinear optics, in the theory of ocean rogue waves and for Bose-Einstein condensates (just to mention a few cases). For instance, in [
1
], Belmonte-Beitia and Torres analyzed the one-dimensional equation
which is a particular case of (1.3) with , and . In equation (1.4) the nonlinearity is called inhomogeneous due to the presence of a non-constant weight , which in [1] is assumed to be positive. The sign condition on implies that nontrivial bounded solutions of (1.4) can exist only for (see [[1], Theorem 1]). For this reason, we prefer to set with .
In order to study equation (
1
.4) or its variants, we are going to follow a dynamical system approach, hence we choose to treat the independent variable (which in the applications has a spatial connotation) as a time variable, via the substitution . Similarly, for the dependent variable, we make the substitution . In this way, equation (
1
.4) reads as
which belongs to the same class of (1.1).
In spite of the apparent simplicity of equation (1.5), a throughout study of its solutions may be a rather difficult task for a general nonconstant weight function . Looking for homoclinic and heteroclinic solutions of (1.5), it will be natural to focus on the behavior of at ±∞. In similar situations, various authors have confined their study to the case in which is asymptotically constant [4–6], or eventually constant [7, 8]. These assumptions are also justified by the analysis of some physical underlying models, in which a layered structure is present. With this respect, see the introduction in [8], where different eventually autonomous cases are listed for related NLSEs arising in nonlinear optics. Examples in which the nonlinear term presents a piecewise constant weight function have been studied also in biological and chemical models. In particular, these situations occur in the theory of wave propagation for reaction-diffusion systems; see, for instance, [9–11]. In the context of equation (1.5), examples in which is a piecewise constant function have been considered as well (see [12]).
The aim of the present paper is to provide multiplicity results regarding homoclinic and heteroclinic solutions for equation (1.1) under particular assumptions on the weight function . Actually, we suppose that is an eventually constant piecewise function with only two steps.
Our approach combines phase-plane analysis with time-mapping estimates. As in [5, 7, 8, 10, 11, 13], the solutions are obtained by connecting the unstable and stable manifolds of the equilibrium points of the asymptotically autonomous equations. Such connections are performed by means of orbit paths of an intermediate equation, which represents the behavior of the system during a suitable interval of transition between the asymptotic states. Multiple connecting solutions arise when such interval length is sufficiently large. Lower estimates for will be provided in terms of time mappings, which can be expressed by Abelian integrals. This kind of approach is also reminiscent of some topological methods for the study of Sturm-Liouville boundary value problems. Indeed, a solution that satisfies the Sturm-Liouville boundary conditions can be interpreted as a trajectory in the phase-plane that connects two lines (see [14–17]). Generalized Sturm-Liouville solutions, which connect the graphs of two functions or given planar continua, have been considered as well (see [18–20]). Often these problems can be settled in the framework of the theory of ODEs with nonlinear boundary conditions (see [21, 22]).
In order to make our approach more transparent, we are going to perform our analysis for equation (1.5). This choice is motivated by the sake of avoiding unnecessary technicalities. Our arguments can be modified in a straightforward manner in the case of more general equation (1.1), with f satisfying (∗) (see Section 3). Homoclinic and heteroclinic orbits can be interpreted as solutions for some boundary value problems on unbounded intervals. In the last section we also outline possible applications of our approach to boundary value problems on a compact interval (like the Sturm-Liouville one).
Besides his manifold achievements in different areas of mathematics, Professor Jean Mawhin is one of the pioneers in the study of topological methods for nonlinear boundary value problems. It is a pleasure and an honor to have the possibility to dedicate our work to his important contributions in this area.
2 Homoclinic and heteroclinic solutions: multiplicity results
3 Remarks and related results
We end the paper with a list of remarks about possible variants and extensions of the main results obtained for equation
1.

A problem which naturally arises from the analysis that we have performed concerns what happens if, for a stepwise weight function satisfying (2.5), we suppose that . Repeating the preliminary phase-plane analysis of Section 2.2, one can easily check that for any gap , there always exist a solution homoclinic to and another homoclinic to , as well as a heteroclinic from to and another one from to . However, in general, if , one cannot obtain multiplicity results like those achieved in Section 2 without some extra assumptions on . This is the reason for which, in the study of equation (2.1), we have considered only the case . For different examples on related equations in which a weight coefficient can be above or below its limits at infinity, see, for instance, [4–6].
On the other hand, if we assume that the weight function changes its sign, with , some interesting multiplicity results could be produced. In fact the phase portrait of (1.1) in the time interval shows a global center, hence if is large, a lot of connections between the unstable and stable manifolds of the points can be obtained. For the sake of conciseness, we omit the study of this latter situation, which is beyond the goal of the present paper.
2.
for , , and with satisfying condition (
∗
), if we assume that is a stepwise weight function, playing the same role of in (2.1). In such a case, the saddle points become with , where is the inverse of
f
restricted to . In this way, we can apply our results to nonlinearities like those considered in [
2
,
27
]. More precisely, Theorem 2.1 holds without any further assumption, while for Theorem 2.2 we need to require a gap between the periods of the orbits and . In order to obtain this gap, we can apply (for instance) some results ensuring the monotonicity of the time-map (like [[
28
], Theorem A]).
3.

Due to the special form of the weight coefficient, it is standard to verify (via a simple rescaling procedure) that (1.1) is equivalent to an equation of the form
where and is a stepwise coefficient. In this manner, one can deal with some nonlinear Schrödinger-type equations related to the case of potential wells or potential walls [
29
,
30
].
4.

The approach used in the proofs, based on the properties of the Poincaré map, guarantees that our results are stable with respect to small perturbations. More precisely, fixed a suitable length for the time interval, Theorems 2.1 and 2.2 provide a lower bound for the number of solutions. We can state that the same lower bound persists for a small perturbation of the coefficient in the -norm on . Therefore, the assumption that the weight in (1.1) or in (3.1) are stepwise functions can be slightly relaxed, so we can 'smooth' them.

5.

With reference to equations (

1

.1) or (3.1) with stepwise coefficients, we observe that our approach can be adapted to boundary value problems on a compact interval like,

e.g.

, the Dirichlet (two-point) or the Neumann problem. In these cases, we have to find solutions connecting given lines which depart from the origin. For the sake of conciseness, we cannot describe the most general situation, but we just outline a possible application for the Neumann problem
with a stepwise function such that for and for , for . Let us denote by the Poincaré map associated to system (2.6) on the time interval , and by the Poincaré map associated to system (2.7) on the time interval . We observe that there exists a maximal compact interval with such that for all the points with . In this manner . The curve
represents the set of all the points in the region , which are images (by ) of initial points of the
x
-axis (therefore ). Figure
12
illustrates the curve for a short time interval (). For a larger
τ
, the line becomes a double spiral with a certain number of turns around the origin, while the part of contained in the region
ℱ
gets very close to and . Then we can repeat the same argument developed in the previous sections by looking for the intersections of with the
x
-axis.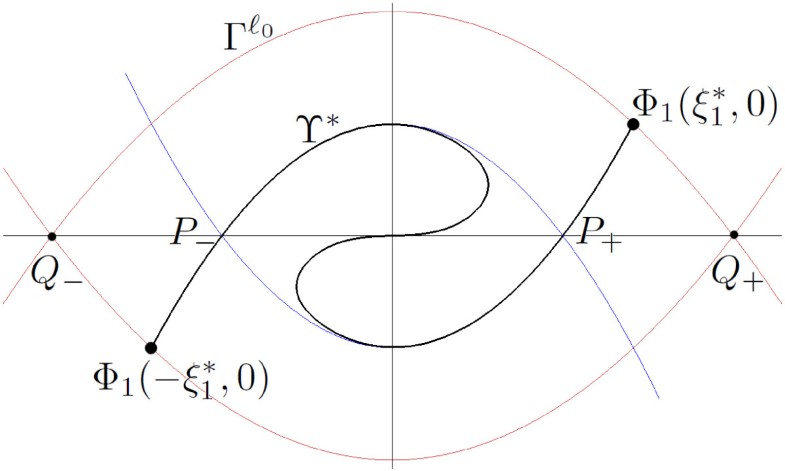 6.

As a final remark, we mention the fact that combining our technique with Ważewski's method [31], following the approach developed by Conley in [18], one can deal with some more general classes of weight functions. For example, one could tackle with these techniques the cases of asymptotically constant or asymptotically periodic coefficients. These extensions, however, need a more delicate analysis and they are beyond the goals of the present paper.
We hope that the abundance of multiplicity results found in the present work (in the special case of stepwise coefficients) may suggest possible directions for extending Theorem 2.1 and Theorem 2.2 to more general weight functions. This will be our goal for a future investigation of the problem.
Declarations
Acknowledgements
The authors are deeply indebted with the referee for the careful checking of the manuscript and for his/her remarks, including a correction to an erroneous argument in the previous version of the proof. This research was partially supported by the project PRIN-2009 Equazioni Differenziali Ordinarie e Applicazioni.
Authors' Affiliations
(1)
Department of Mathematics and Computer Science, University of Udine, Udine, Italy
Copyright
© Ellero and Zanolin; licensee Springer. 2013
This article is published under license to BioMed Central Ltd. This is an Open Access article distributed under the terms of the Creative Commons Attribution License (http://creativecommons.org/licenses/by/2.0), which permits unrestricted use, distribution, and reproduction in any medium, provided the original work is properly cited.